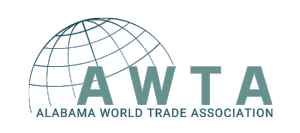 The mission of the Alabama World Trade Association (AWTA) is to promote and improve the opportunities for Alabama citizens through the expansion of international trade, and to pursue initiatives on the state and federal level that support positive trade policies and the creation of new markets for Alabama companies and their employees.  The AWTA also provides a forum for exporters across the state to communicate the value of international trade policy to decision makers. Membership is comprised of businesses, manufacturers, chambers of commerce and agricultural groups committed to the promotion of Alabama products through increased exports.
AWTA actively serves as an advocate of free trade to governmental leaders, and works with the Export Alabama Alliance to provide educational events throughout the state.
For more information about AWTA, please contact the AL Department of Commerce – International Trade Division or Alabama International Trade Center.