Profiles in Small Business Export Success
CleBer Tractor: Exporting Tractors – & Rural Food Security
Open technology supports rural farmers worldwide.
Back Forty Beer Company: Tapping into Foreign Distribution
Alabama's largest craft brewery, and Manufacturer of the Year, STEPs into Exports
Carter Brothers Pecan (ARNCO): Rural Company Cracks into Export Market
Rural, woman-owned business is now the second largest US exporter of pecans
PAKUSA: Partnering for Biometric Banking
Alabama companies work together to enter Pakistan
Hornsby Steel: Modern-Day Blacksmith Goes Global
Rolling steel into the Caribbean and beyond
Sealing Equipment Products (SEPCO): Experienced Exporter Continues to Grow
Thirty export markets, and strategically growing
To Your Health Sprouted Flour: Growing International Sales Organically
From Fitzpatrick, AL to the world
Alignment Simple Solutions: As seen on TV! 
Birmingham automotive innovator: From zero to 50 countries
Atlas RFID: GPS & RFID Solutions for industrial construction around the world
Veteran-owned company grows exponentially
Lumber Company Builds Small Town Employment
How one rural Alabama company created 40 jobs and over $10 million in export sales while working with AITC counselors and SBA's Export Working Capital Loan.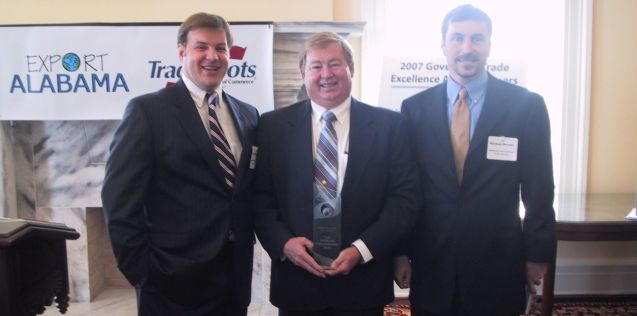 *2007 Receipient of the Governor's Trade Excellence Award
Robert Stackpole (DOC), James Dixon (Thomasville Lumber), Michael Brooks (AITC)
at the Governor's Trade Excellence Award Ceremony.
Old Iron Doors Swings Jobs Back to Alabama
A local entrepreneur uses an SBA-guaranteed loan to move a wrought-iron door manufacturing facility from Mexico to Bessemer, bringing 30 new jobs to the area and allowing the company to increase both foreign and domestic sales.
Foundry in China Gets (Environmental) Blast from Birmingham
With all the items being made in China and sold in the US, it's refreshing to hear of a shipment going in the other direction. Such is the case with Electric Controls and Systems of Birmingham, Alabama. Learn how EC&S leveraged AITC and SBA resources to beat out a German competitor and secure a $11.8 million contract to produce a hot blast cupola system for a new foundry in China. The foundry produces grey iron for use in the production of diesel engines.
*2007 Receipient of the Governor's Trade Excellence Award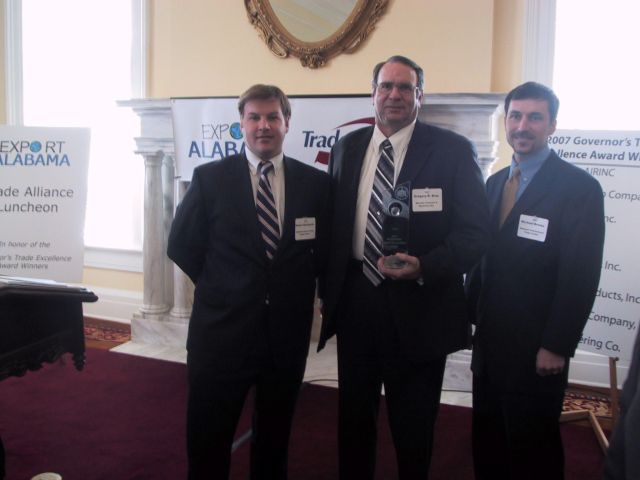 Robert Stackpole (AITC), Greg Bray (EC&S), Michael Brooks (AITC)
at the Governor's Trade Excellence Award Ceremony.
---
SBA Loans to Small Business Exporters Surpass $1 Billion!
The SBA Office of International Trade reported 3,302 loans for $1.03 billion to small business exporters in FY 2006, doubling the number of export loans made in FY 2003.
How many of your competitors are already using SBA programs to their advantage?
How can your company take advantage of SBA's loan programs?
Call us for a free evaluation: 800-747-2482
Ex-Im Bank Supported Over $50 million in Alabama Exports for 2006
Over the last five years, the Export-Import Bank has supported 11 communities, 27 companies and financed a total of $311.73 million in exports from Alabama.
---
Bulk Storage Company Unboxes One Export Market at a Time
MSSI Inc designs and fabricates steel products that are used for feed ingredient and raw material storage. A quick trip to a trade show in Mexico allowed the company to find a represenative in Venezuela, adding to the 30+ countries that they export to.
Japanese Pets Enjoy Southern Cuisine
Family-owned pet food company in rural northwest Alabama manufactures an alternative to high-priced veterinary-style dog food, finds customers in Japan and around the world.
Small Company Finds Safety in Export Markets
CEO jumps off building, lands safely in the booming Asian construction markets. Find out how he leveraged state and federal programs to tap into lucrative foreign markets when the domestic market was flat.
Exporting a Sweet Deal for Local Firm
Local cookie company overcomes export hurdles with the AITC training program.
---
Governor Riley names eight companies as the 2008 Trade Excellence Award winners.
Now available: Awards Ceremony Video