Hornsby Steel is a family operated fabricator of structural curved and bent steel products, with more than 100 years of combined experience in its management team.  As the popularity of using curved steel in the building industry has risen, so has the need for shops that specialize in bending and rolling steel.  It's a tough and competitive industry, but the Hornsby team has survived and kept its employees in this rural area just north of Birmingham on board during industry ups and downs.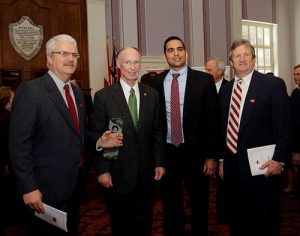 Since opening Hornsby Steel in 2006, they have succeeded in creating a niche within the fabricating industry by developing an expertise in spirals and other complicated shapes. They like to think of themselves as a modern-day blacksmith shop. They use hydraulic power instead of the old heat-and-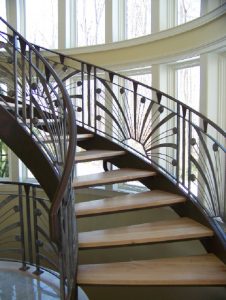 beat method.  Hornsby Steel now employs 30 people.
David Hornsby, company owner and president, says their formula for succeeding has been rather simple:  "Find the right equipment, hire the right people, add a touch of innovation, then do what it takes to get the job done".  Hornsby has capabilities in spiraling plates, tubes, beams, and channel.  They also have conical rolling capabilities on tubes plates, beams, and channels. Including spirals, bends or rolled steel can certainly create a new dimension to an otherwise ordinary design.  Having the right shop bending or rolling the steel to arches, curves or other shapes can also lessen the concerns in making design decisions involving complex curves, bends or rolls.
Five years ago, Hornsby Steel made the strategic decision to diversify their market and customer base by exporting. In 2012, the company hired Geraldi Mejia to oversee their international business expansion, and began the process of educating themselves about international trade and marketing their products abroad.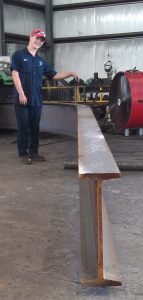 Over the years, and with the help of the University of Alabama International Trade Center, an outreach program of the University of Alabama's Culverhouse College of Business, the company made it a priority to commit to exporting and pursue international opportunities.   They attended numerous international trade workshops, provided training to their employees on export mechanics, participated in a State of Alabama trade mission to Colombia (2010&2012), Panama (2012), and used the Gold Key Program from the US Commercial Service to enter other markets in Latin America.
In 2014, Hornsby Steel was recognized by Governor Robert Bentley and presented the Governor's Trade Excellence Award. The Governor's Trade Excellence Awards Program was established in 2005 to recognize Alabama manufacturers and service companies for excelling in international trade and is part of the state-led Export Alabama Trade Alliance program.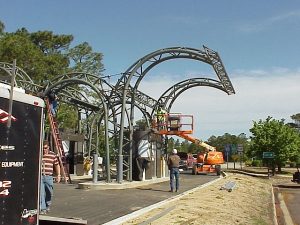 AITC foreign market research led them to develop a relationship with a fabrication shop in the Caribbean.  It took five years of work and patience, but Hornsby Steel won their first order to the Caribbean for an $85,000 fabrication project last month.  They hope this customer will solidify their relationships in the Caribbean and lead to future projects.  This one job alone impacted the Alabama economy by providing overtime work for 6 of their employees for over a month.  This project also benefited local steel suppliers as well as a local logistics company.  Over half of the steel used for this project was manufactured by the local mill CMC Steel Alabama.
According to David Hornsby and Geraldi Mejia, without the help of the AITC, none of this would be possible. "They helped us set up potential clients, understand the laws that we must work with, and prevent the pitfalls that exist with anything new. Anytime we run into a question, they are only a phone call away. This has been a nice addition to our business. We plan to continue this effort for a long time."