Atlas RFID Solutions, Inc., founded in 2007, develops and implements auto-ID and mobile based systems throughout the world and has over 175 deployments spanning more than 50 countries on three different continents. The company's products and services bridge the gap between the capabilities of auto-ID technology and the commercial needs of efficiency-conscious firms.
Atlas RFID's proprietary construction-focused asset management solution, Jovix™, has been deployed at industrial construction sites in the United States, China, Thailand, Australia, Turkey, Malaysia and Canada. Atlas has also built customized RFID solutions for international clientele, including the London City Airport in the United Kingdom. And it operates a retail business line that serves more than 2,000 customers worldwide with its e-commerce site.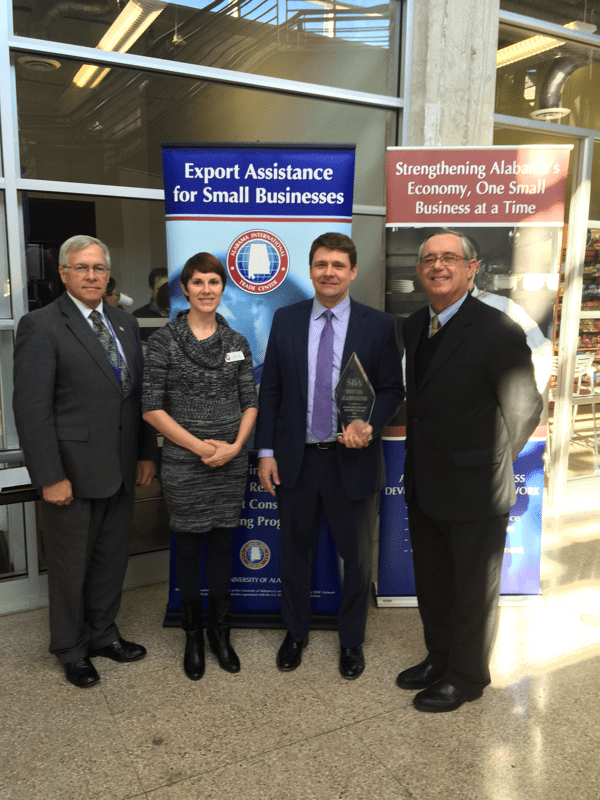 "Atlas RFID Solutions is proud of the work that we have accomplished in the United States and abroad," said Robert Fuqua, President and CEO. "By offering the market a unique set of products and services for materials location and management using computer software, RFID and GPS technology, and hardware, we have been able to meet the demands for automating workflow processes in a variety of industries across the globe," Fuqua added. Robert is an engaging entrepreneur with extensive experience. His years as an Officer and Ranger in the United States Army developed his leadership and management skills in the most demanding of environments.
Due to the nature of Atlas RFID's deployments, they have had to develop specialized overseas marketing strategies. According to Atlas RFID: "Our projects are located on jobsites around the world, in harsh weather environments and remote locations that, in some cases, have little to no infrastructure in place prior to the project breaking ground. What we've learned is that these projects are planned well in advance, and a majority of the planning and permitting process is conducted in major energy hubs like Houston, Calgary, and London. We spend a great deal of time researching upcoming projects, analyzing market trends and forecasting where the work will be planned. Once we understand who the major players are – Owner, EPC Firm, Contractors – we work directly with key personnel at each entity to identify ways to improve material control using auto-ID and mobile technology. The key is knowing early who is responsible for the scope of work and marketing directly to those stakeholders before they mobilize to the jobsite."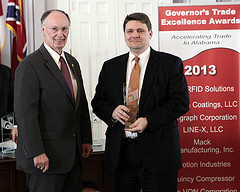 They have also developed effective solutions to export-related problems. Atlas RFID explains: "As a best practice, Atlas RFID places our own "boots on the ground" – someone who understands in great detail our product, processes and people to help facilitate the relationship with the client. We've found that having a dedicated person on the jobsite alleviates many issues related to international exports including shipping/receiving, communication between multiple parties, project management, training and project implementation."
One example of this "boots on the ground" mentality is Atlas RFID's new partnership with North West Redwater which was finalized in late 2014. This project is one of the biggest in the Canadian Oil Sands. North West Redwater (NWR) will implement strategies to safely drive project efficiencies. One such strategy is the deployment of a Positive Material Location & Identification (PMLI) Program using Atlas RFID auto-ID and mobile technology. NWR has engaged Atlas RFID Solutions to work with its Unit Contractors to deploy Jovix™ in their materials management programs as one measure of keeping the project on schedule and on budget. Having access to accurate, real-time information about the location, status and availability of critical materials will improve productivity for the contractors' direct and indirect labor and will reduce unnecessary material re-procurement.
The auto-ID-enabled material control system, Jovix™, will also improve workface planning by providing visibility throughout the entire material lifecycle, from fabrication to installation. "We worked with the North West Redwater Partnership to look for ways to reduce costs through innovation and establish this project as a model for others in the industry," said Jon Chesser, Canada Regional Manager for Atlas RFID Solutions. "We built a comprehensive roll out plan across multiple units and contractors to provide a very high level of information sharing and collaboration on material availability. Not only will the contractors be able to work together more effectively, efficiency will be improved at the workface and NWR will have access to information across the project to make critical decisions based on accurate, timely information from all of its contractors."
Through the years, Atlas RFID has been recognized as industry leaders. In November 2013, Atlas was recognized by Hire Power Awards as a private business that has generated the most jobs in the past 18 months. Atlas RFID Solutions created 34 net new jobs from November 2012 to November 2014, placing it among the top 10 private business job creators within the state of Alabama and representing 162% growth in jobs. The majority of these new hires are client facing in implementation and project management roles, followed by marketing and business development. And most of these new employees are in Birmingham, AL. Within that same time frame, they hired 20 new Canadian contractors, starting from zero in 2012, mostly in the Canadian Oil Sands in Alberta or in Calgary.
At the same time, Atlas RFID ranked No. 203 on Deloitte's Technology Fast 500™, a ranking of the 500 fastest growing technology, media, telecommunications, life sciences and clean technology companies in North America. The firm grew a whopping 515 percent during this period.
Moreover, the Atlas RFID team has participated in numerous global industry conferences as experts in their field, further expanding their reach to potential customers abroad. Robert Fuqua spoke at the White House's Made in Rural America, Export and International Investment Forum in August 2014. He noted the assistance received from the Alabama International Trade Center (AITC) at UA's Culverhouse College of Busienss and the Export Alabama Alliance team including education and research support for export sales development.
Atlas RFID also participated in the Supply Chain Management Association's National Conference as a subject matter expert on RFID and automation for industrial construction jobsites. Jon Chesser, Vice President and Canada Regional Manager for Atlas, was part of the panel "Proactive Integration of RFID into Your Material Management Strategy" along with John Walker of Bantrel Management Services and Landon White of Ernst + Young Advisory Services at the Shaw Conference Centre in Edmonton, Alberta.
The team participated in the RFID in Energy, Mining and Construction Conference as a subject matter expert on RFID, mobility and automation for industrial construction jobsites. The event was co-located with the annual Lean Construction Institute of Australia. Josh Girvin, Vice President of Product Development for Atlas, was part of the panel discussion "How RFID Solutions Drive New Business Benefits" presentation at the Perth Convention and Exhibition Centre in Perth, Western Australia.
In addition, Atlas RFID finds potential customers by participating in trade development events organized and led by the Alabama Department of Commerce and Hilda Lockhart, Director of its International Trade Division. The firm joined state trade missions to China, Canada, Norway, Sweden, Peru and Uruguay, which were supported in part by the SBA State Export Trade Program (STEP) and the State of Alabama. Carolyn Turner, Trade Specialist with the AITC, provided pre-mission research to help prepare Atlas for the trips and the center assisted with business meetings in Norway, Sweden, and Peru.
Atlas RFID exports and revenues have been steadily increasing. Canada is by far their largest export market, but Atlas RFID has exported successfully to over 50 countries including all of the markets they visited on Trade Missions. And new export markets for them in 2014 include Indonesia, Austria, Bolivia, Romania, Tanzania, Greece, Peru, and Latvia. Their YTD Export Sales total over $6,500,000.00.
As a result of their success and expansion, the firm received the Governor of Alabama's Trade Excellence Award in 2013.
Demand for Atlas products continues to grow from the far corners of the globe, keeping this seven year old Birmingham-based small business and Robert Fuqua on the move.