Trade Finance Guide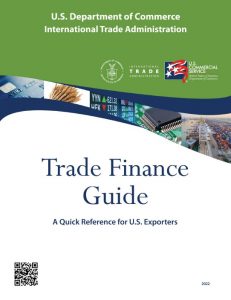 Trade Finance Guide 2022: A Quick Reference for U.S. Exporters has been written to help U.S. companies, especially small and medium-sized enterprises (SMEs), learn the fundamentals of trade finance to turn their export opportunities into actual sales and to achieve the ultimate goal: to get paid for their export sales. Fourteen concise chapters offer the basics of numerous financing techniques, from open accounts, to forfaiting, to government assisted foreign buyer financing.
Small Business Loans
Grants
Unfortunately, grant monies are usually not available, with a few exceptions of high technology businesses (see below). For additional assistance visit the U.S. Small Business Administration or Catalog of Domestic Assistance website. To find an alphabetical listing of federal personal assistance visit USA.gov website's Government Benefits, Grants, and Financial Aid page. To determine if you are eligible for a grant from Grants.gov, please review this eligibility tutorial.
Other Finance Tools
InterAmerican Development Bank
How to Do Business With The IADB. Each year the Inter-American Development Bank funds some $6 to $8 billion in development projects in 26 countries in Latin America and the Caribbean. These projects generate hundreds of contracts for U.S. companies to provide a wide range of goods, equipment, services, and expertise. This booklet provides an overview of the bank's operations and offers practical guidance on how to do business with it. Additional sections offer basic information on the bank's procurement process and contact information for Commerce Department representatives at the bank who can provide support and assistance for U.S. firms.
IADB Borrowers Guide